As the Ford trucks rolled in last November and the 2018 PBR World Finals black carpet was underway, PBR insider Justin Felisko met his match.
At the entryway of the carpet sat a quiet 16-year-old overcome by being at the ultimate competition of his favorite sport. Little did anyone know that the somewhat withdrawn young man could go stat-for-stat with some of the sport's greatest.
Since birth, Ethan Brown has lived with cerebral palsy, which has affected mostly the left side of his body, causing weakness and paralysis, with contractures of muscles and joint complications. Despite the challenges of this chronic disease, it has never stopped him from having a cowboy mentality and living his life to the fullest.
"Ethan's always admired the grit and determination it takes to compete in bull riding," said Chris Brown, Ethan's dad. "I think he can relate, with the multiple surgeries he's had over the years. He's had to fight to recover from each operation and show grit and determination to learn to walk again and again. He and the riders both know what it means to be injured, and to get up and keep competing every day."
In early 2018 Ethan's parents worked with Kansas City-based "Dream Factory" to grant Ethan the wish of a lifetime, attending the PBR World Finals in Las Vegas. But Ethan's family didn't stop there. They shared his passion and dedication to learning the history of the sport and also his love of journalism – which sparked an idea within the PBR team that would forever change his life.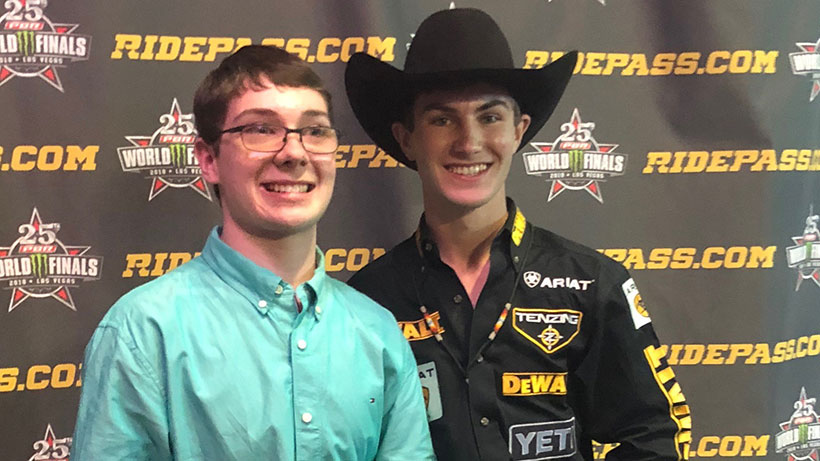 After a whirlwind few days of walking the carpet with riders he now calls friends like Chase Outlaw and Jess Lockwood, talking stats and scores with Felisko and reminiscing about PBR events and retired bulls with legends like Ty Murray, Justin McBride, Adriano Moraes and Cody Lambert – the ultimate wish went to the next level when the PBR team took Ethan to what he thought was just observe the live RidePass show.
After months of planning, Ethan was about to be surprised and invited to the desk to call rides live on the broadcast alongside Matt West, Colby Yates and his idol, stat guru Felisko. The teenager took to his feet from his wheelchair and stood side by side with the talented anchors, matching their wit and knowledge with each jump of the bulls.
West's friendship with Ethan has grown since that November evening, and the two frequently connect pre-event each week to discuss matchups.
"Sometimes in life, God connects you with people that just make your life better," West said. "That's exactly what happened to all of us when we met Ethan. His infectious energy and passion for the sport and its athletes is undeniable."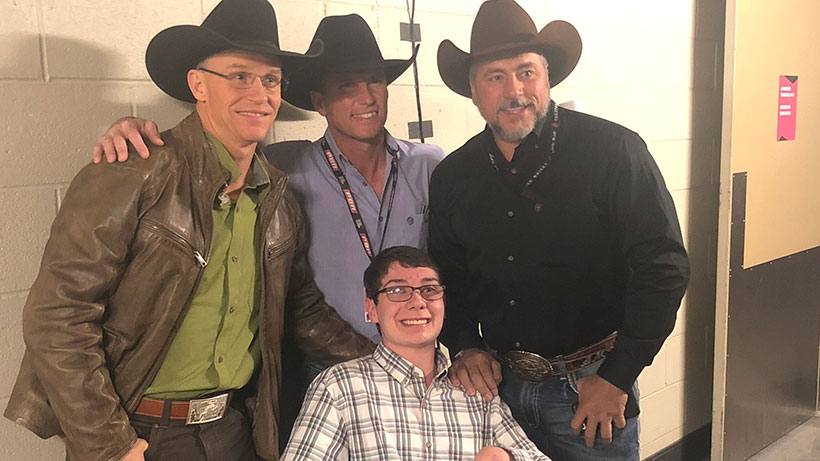 Almost one year later, Ethan, who is now in his senior year of high school, will make his return to the RidePass desk on Friday, Sept. 13 as the PFIWestern.com Invitational gets underway in Springfield, Missouri. His energy, determination and love for the sport have magnified in the months following his journalistic debut.
"I am so honored to be asked back," said Ethan. "It is such a blessing to be a part of the PBR, I must have done something right!"
If you ask the PBR team, bull riders and RidePass crew that have had the privilege of working with this talented young man, they will tell you the honor was theirs, and that all Ethan has overcome, his positive outlook and dedication to his future is the truest definition of cowboy that there is.
Look out Felisko…